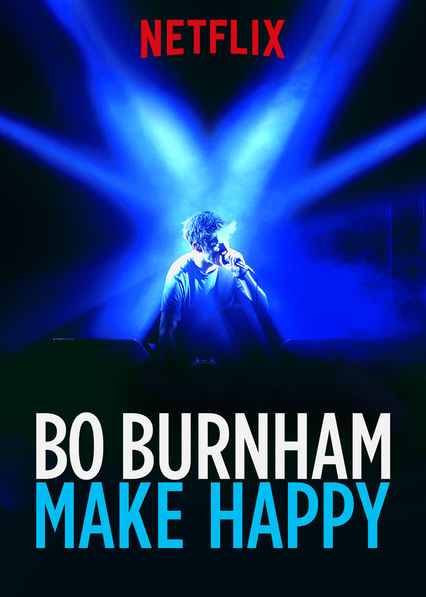 I don't think I have mentioned before that I really love watching and listening to comedy specials. Of course, I've got some favorite comedians, and Bo Burnham is one of them by far.
If you don't know Bo, he is a musical comedian, who actually got his start on Youtube. His shows are not like most comedians, as he doesn't just walk around the stage, or sit on a stool. He, not only plays the piano intermittently, but has elaborate choreography and lighting.
Bo now has two specials out on Netflix, "what" and "Make Happy". I have watched them both recently, and I feel like even though they are similar formats, they are very different.
For instance, the first of the specials, "what" starts with a cute video of him singing as a child. In "Make Happy" it begins with him awaking in a hotel with his face painted as a clown, which I assumed was a statement of how comedians put on a fake face for their shows.
Continuing with the theme, "Make Happy" was darker than "what". Bo rides a thin line between being relatable and maintaining a facade of being above his audience. This was the thing that made me love his new special even more than the last.
One of his songs repeats "I don't think I can handle this right now", and earlier this year, I was saying the same thing. As someone who always loved to make people laugh, I find myself taking it too far and sometimes people have a hard time ever taking you seriously. I may not know what Bo is going through, or if what I got out of his show is what he was going though, but regardless, it said something to me (as well as made me laugh so hard it made my stomach hurt).
I would highly recommend anyone, who's not easily offended, to watch it on Netflix.