I'm a huge fan of rereading books and lately it seems like my entire TBR is of rereads, so for this week I would share all the books or series that I want to reread.

1. Harry Potter Series – J.K. Rowling
Can you believe I've only read through this series ONCE? Me either! I have all of them on my kindle, I'm just waiting for the right moment to pick them up again.
2. The Shining – Stephen King
The last time I read The Shining, I was very young and I honestly didn't like it much. I think I was just too young to understand it. I also desperately want to read Doctor Sleep, but as it is a sequel of The Shining, I need to brush up on my knowledge of the Overlook Hotel.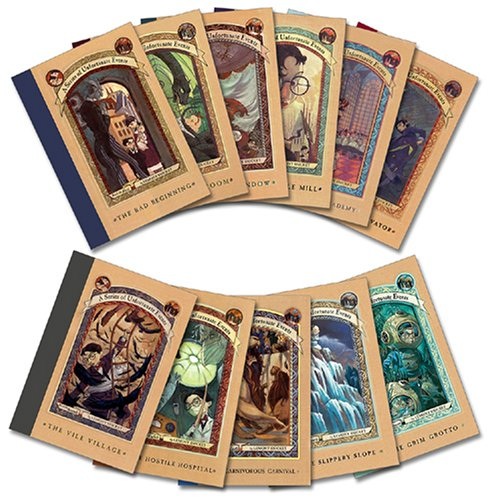 3. The Series Of Unfortunate Events – Lemony Snicket
I actually wanted to read these before the new Netflix series came out, but now it looks like that won't happen. Even still, I want to pick them up.

4. Little Women – Louisa May Alcott
I read this book a LONG time ago and it is still one of the only "classics" that I legitimately enjoyed. I would love to have an older perspective on the whole book.

5. The Warriors Series – Erin Hunter
This is the series that I have the most fond memories of as a child, but I never hear anyone else talking about them. I have also heard that they're making a movie out of them, so now rereading is a MUST!

6. Stephen King: On Writing – Stephen King
As an aspiring writer, this is one of the most inspiring books I've every read, so a reread wouldn't hurt.

7. Alice's Adventures in Wonderland & Through the Looking Glass – Lewis Carroll
This is another book I read and loved when I was young, but I feel like I would have a better understanding of if I read it today.
8. IT – Stephen King
Its my all time favorite book. What can I say? I can't get enough!
9. Gone with the Wind – Margaret Mitchell
This is another classic that I read when I was young. It had a lasting impact on me and the way I viewed history, and I think it's time I read it again.

10. Goosebumps Series – R.L. Stine
This is the series of books that got me not only into horror, but into reading! I think it's time I paid it a revisit, for old times sake.
---
That's all ten! It's a huge list, but it will all come together soon! What are some books you want to reread?
SOCIAL MEDIA —