As some of you may know, last month I began going along with reading the Gore n' More Book Club book of the month and LOVED February's pick (see my review HERE!). Exorcist Falls was the March pick, did I love it as much? Let's find out!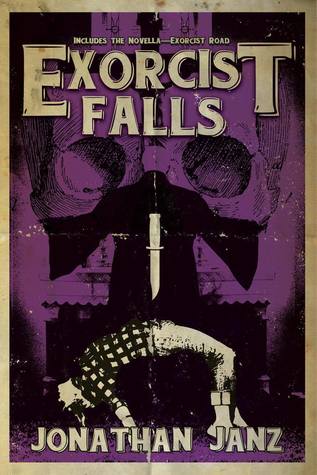 Chicago is gripped by terror. The Sweet Sixteen Killer is brutally murdering young women, and the authorities are baffled.

When the police are called to an affluent home in the middle of the night, they learn that a seemingly normal fourteen-year-old boy has attacked his family. The boy exhibits signs of demonic possession, and even more troublingly, he knows too much about the Sweet Sixteen killings. Father Jason Crowder, a young priest assigned to the case, must marshal his courage in order to save the boy and the entire city from the forces of evil.

But this is a darkness mankind has never encountered before. It craves more than blood. And it won't rest until it possesses Father Crowder's soul.
Rating – R (Sexual scenes, gore, extreme abuse)
Publication Date – March 15, 2017
Length – 279 pages
---
The Good –
I'll just throw this out there right now. I don't really like exorcism stories. I don't find them scary like I do monsters or even just crazy people. This especially applies to movies, since I haven't really read that many books about exorcisms and possessions. That being said, there were moments during the exorcisms, that I really found myself spooked.
The premise, which I won't give away in it's entirety, was pretty inventive. It was like a twist on superhero stories and I found myself brought in by the ideas.
The Meh:
The writing, in this, was really bare bones. It was a lot of "And then I did this. And then I thought that." I'm not one to be picky about writing, but this REALLY took me out of it!
The main character was…fine. There was nothing interesting about him really, and the writing made him even less interesting. He was constantly freaking out and I guess he was supposed to be like the every man, but he didn't work for me.
The Bad:
You know what I love? Plot twists. You know what this book made me hate? Plot twists. I swear there were like ten plot twists, in the book. It got to a point where it was actually funny, how many times they tried to rip the rug out from under the reader.
The story was very jumbled, mostly due to the plot twists mentioned above but also because there are two love interests, and so many characters who you don't know if you should care about them.
---
STORY – 2.75 (It was too jumbled and odd for my taste. Also there were WAY too many plot twists!)
CHARACTERS – 3/5 (Fine)
WRITING – 2.5 (It really bothered me sometimes. It was so bare boned and simplistic. Again the twists were WAY too frequent and became predictable.)
UNIQUENESS – 3/5 (It was unique, but that doesn't mean it was well done.)
ALL IN ALL I GIVE THIS 2.8 PLOT TWISTS OUT OF 5!
Have you read this? What did you think about it? What's your favorite demonic possession story? I'd love to know!
Thanks for reading!
SOCIAL MEDIA —
Check out my last post on my review of The Color Purple – Alice Walker HERE!