April Wrap Up!
So April was THE month of horror for me! I literally ONLY read horror and LOVED every minute of it!
Stats –
I read 4 books in this month. Out of those 4 there were –
0 – ★
2 – ★★
1 – ★★★
1 – ★★★★
0 – ★★★★★
Altogether I read 1,352 pages.
All four books were in the horror genre, and adult.
---
Exorcist Falls – Johnathan Janz // REVIEW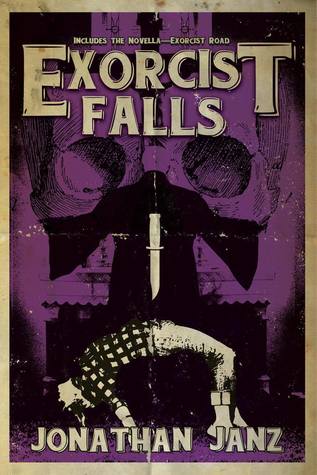 Chicago is gripped by terror. The Sweet Sixteen Killer is brutally murdering young women, and the authorities are baffled.

When the police are called to an affluent home in the middle of the night, they learn that a seemingly normal fourteen-year-old boy has attacked his family. The boy exhibits signs of demonic possession, and even more troublingly, he knows too much about the Sweet Sixteen killings. Father Jason Crowder, a young priest assigned to the case, must marshal his courage in order to save the boy and the entire city from the forces of evil.

But this is a darkness mankind has never encountered before. It craves more than blood. And it won't rest until it possesses Father Crowder's soul. – Goodreads
Finished Reading – April 5, 2017
Rating – 2.8 PLOT TWISTS OUT OF 5
Favorite part – The premise! It was a really good idea!
Least favorite part – SO MANY PLOT TWISTS!!
Song Of Susannah – Stephen King // REVIEW
The next-to-last novel in Stephen King's seven-volume magnum opus, Song of Susannah is at once a book of revelation, a fascinating key to the unfolding mystery of the Dark Tower, and a fast-paced story of double-barreled suspense. – Goodreads
Finished Reading – April 10, 2017
Rating – 4 SKöLDPADDA OUT OF 5!
Favorite part – The tie ins to the other books! Everything is tying together!!
Least favorite part – It didn't really stand alone as it's own novel.
Heart-Shaped Box – Joe Hill // REVIEW
Aging, self-absorbed rock star Judas Coyne has a thing for the macabre — his collection includes sketches from infamous serial killer John Wayne Gacy, a trepanned skull from the 16th century, a used hangman's noose, Aleister Crowley's childhood chessboard, etc. — so when his assistant tells him about a ghost for sale on an online auction site, he immediately puts in a bid and purchases it.

The black, heart-shaped box that Coyne receives in the mail not only contains the suit of a dead man but also his vengeance-obsessed spirit. The ghost, it turns out, is the stepfather of a young groupie who committed suicide after the 54-year-old Coyne callously used her up and threw her away. Now, determined to kill Coyne and anyone who aids him, the merciless ghost of Craddock McDermott begins his assault on the rocker's sanity. – Goodreads
Finished Reading – April 17, 2017
Rating – 3.25 ODD COLLECTIONS OUT OF 5!!
Favorite part – The design of the ghost! So creepy!!
Least favorite part – The ending was pretty underwhelming.
Becoming – Glenn Rolfe // REVIEW
Something ancient has wormed its way up from the earth….

A change has come today.After Michele Cote's best friend disappears, no one believes her story about the thing responsible for his abduction. Forced to figure out the mystery for herself, Michele encounters terror she has never known, and witnesses the impossible.

When other members of the community begin to change or vanish, Sheriff Shane Davis must look beyond reason in order to stop the evil seeping into this small town. With help from an unlikely source, Sheriff Davis will come face-to-face with the truth.

You can't destroy what you don't understand. For the small town of Avalon, Maine, the future is about change…for better or worse.

Becoming is the next horrifying novel from author, Glenn Rolfe. – Goodreads
Finished Reading – April 26, 2017
Rating – 2 TENTACLE MONSTERS OUT OF 5!
Favorite part – The monster design was pretty creepy.
Least favorite part – THE ENDING WAS SO BAD!!
And that's it for this month! What was your favorite read? I think mine was Song of Susannah!
Thanks for reading!
SOCIAL MEDIA —
Check out my last post on Music This Month April HERE!