I have been wanting to read The Vegetarian for AT LEAST over a year now. It covers mental illness and had been compared to The Yellow Wallpaper – Charlotte Perkins Gilman, which is one of my FAVORITE short stories ever. So , did it live up to all the hype? Let's find out!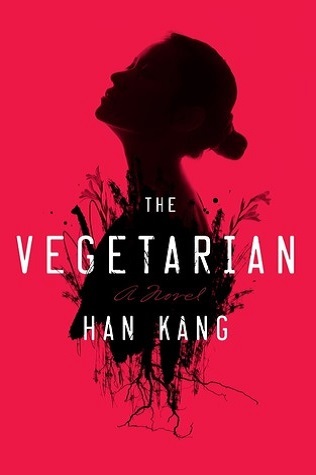 Before the nightmare, Yeong-hye and her husband lived an ordinary life. But when splintering, blood-soaked images start haunting her thoughts, Yeong-hye decides to purge her mind and renounce eating meat. In a country where societal mores are strictly obeyed, Yeong-hye's decision to embrace a more "plant-like" existence is a shocking act of subversion. And as her passive rebellion manifests in ever more extreme and frightening forms, scandal, abuse, and estrangement begin to send Yeong-hye spiraling deep into the spaces of her fantasy. In a complete metamorphosis of both mind and body, her now dangerous endeavor will take Yeong-hye—impossibly, ecstatically, tragically—far from her once-known self altogether.

A disturbing, yet beautifully composed narrative told in three parts, The Vegetarian is an allegorical novel about modern day South Korea, but also a story of obsession, choice, and our faltering attempts to understand others, from one imprisoned body to another. — Goodreads
Rated – R (Sexual scenes, Disturbing imagery, TRIGGER WARNING – SELF HARM

) 
Publication Date – 10 / 30 / 2007
Length – 192 pages
---
The Good –
This book was haunting. There was a creepy vibe from the very first page and it does not let up at all. Even though this book is not a thriller, it really reads like one.
This was a great take on mental illness and how mental illness affects loved ones as well. I feel like I haven't read a book that focuses less on the character who is suffering and more on those who are in their lives.
The writing was so eloquent and beautiful and was by far the best part of the book. I'm not going to sit here and lie to you and say that I understood all the symbolism, but I was still able to enjoy and follow the story.
The Meh:
I was so intrigued by the premise of this book, but when reading it I felt it was underwhelming. It just never made me especially invested, and I wasn't actually in a state of unease until the final section.
This book is written in 3 parts, and 3 different perspective. Out of these 3 parts, I definitely preferred the second the most, and found the third the most "unsettling". I will talk about the first part later.  I put this under the "meh" section because out of the 3 parts I only cared about the voice of the narrator in the second part and was actually rooting for him (which I don't think I should have been and I'm worried for myself).
I do feel like this book is very similar to other things I've read that are about women descending into madness. I had not heard the comparison to The Yellow Wallpaper before reading this, but as I read, I couldn't get that story out of my mind.
The Bad:
The only big issue I had with this book was the first part, or the lack of the consistency across all the parts. In the first part, it is told in the first person but in the other parts it is told solely in third person. I wish that it had either been mixed throughout the entire book or all first person or all third. It was just very distracting for me.
---
STORY – 4/5 (it was a great ode to mental illness and many other important themes but I thought it was a little lackluster when it came to execution)
CHARACTERS – 4/5 (I found my only caring for one character who I don't think I should have been rooting for. I especially didn't care for the woman who chose to become vegetarian which was disappointing)
WRITING – 4.5 (by far the best part of this book. Very eloquent and symbolic.)
UNIQUENESS – 4/5 (I felt like I've read this story before which I know Is crazy but it reminded me of many other story of mental illness centered around women.)
ALL IN ALL I GIVE THIS 4.1 PAINTED BODIES OUT OF 5!
Have you read this? What did you think about it? I would love to know!
Thanks for reading!
SOCIAL MEDIA —
Check out my last post on my review of Your House Is On Fire, Your Children All Gone – Stefan Kiesbye HERE!