May was the best reading month that I have had since I was in MIDDLE SCHOOL! Seriously I'm so proud of myself.
Stats –
I read 7 (!!) books this month! Out of those books there were –
0 – ★
0 – ★★
2 – ★★★
3 – ★★★★
2 – ★★★★★
Monthly Avg. Rating – 4 stars
5 books I read in physical copies / 2 were E-Books
2 physical books were library copies / 3 I owned.
I read 1 book for review.
I read 1 book for the Gore and More Book Club.
Altogether I read 2,726 (+ Devil's Call because it doesn't have a page count).
3 books were adult Horror novels.
1 book was an adult Mystery.
2 books were Lit Fic.
1 book was a Historical Fantasy.
---
Your House Is on Fire, Your Children All Gone – Stefan Kiesbye // REVIEW
The village of Hemmersmoor is a place untouched by time and shrouded in superstition: There is the grand manor house whose occupants despise the villagers, the small pub whose regulars talk of revenants, the old mill no one dares to mention. This is where four young friends come of age—in an atmosphere thick with fear and suspicion. Their innocent games soon bring them face-to-face with the village's darkest secrets in this eerily dispassionate, astonishingly assured novel, evocative of Stephen King's classic short story "Children of the Corn" and infused with the spirit of the Brothers Grimm.
Finished Reading – 5 / 2 / 17
Rating – 3.4 Creepy Kids out of 5!
Favorite Part – The creepy tone and the writing!
Least Favorite Part – The lack of an overarching narrative.
The Vegetarian – Han Kang // REVIEW
Before the nightmares began, Yeong-hye and her husband lived an ordinary, controlled life. But the dreams invasive images of blood and brutality torture her, driving Yeong-hye to purge her mind and renounce eating meat altogether. It s a small act of independence, but it interrupts her marriage and sets into motion an increasingly grotesque chain of events at home. As her husband, her brother-in-law and sister each fight to reassert their control, Yeong-hye obsessively defends the choice that s become sacred to her. Soon their attempts turn desperate, subjecting first her mind, and then her body, to ever more intrusive and perverse violations, sending Yeong-hye spiraling into a dangerous, bizarre estrangement, not only from those closest to her, but also from herself.

Celebrated by critics around the world, The Vegetarian is a darkly allegorical, Kafka-esque tale of power, obsession, and one woman s struggle to break free from the violence both without and within her.
Finished Reading – 5 / 9 / 17
Rating – 4.1 Painted Bodies out of 5!
Favorite Part  – A great ode to mental illness and it was deeply unsettling!
Least Favorite Part – I didn't care about characters.
Devil's Call – J. Danielle Dorn // REVIEW
On a dark night in the winter of 1859, three men entered the home of Dr. Matthew Callahan and shot him dead in front of his pregnant wife. Unfortunately for them, his wife, Li Lian, hails from a long line of women gifted in the dark arts–the witches of the McPherson clan.
This diary, written to the child she carries, records her quest from the Nebraska Territory to Louisiana to the frozen shore of Lake Superior, to bring justice to the monsters responsible for shooting her husband in the back. Our long-rifled witch will stop at nothing​–​and risk everything​–​in her showdown with evil.
Finished Reading – 5 / 17 / 17
Rating – 3.4 Witches out of 5!
Favorite Part  – Loved the witches and their lore.
Least Favorite Part – I had a hard time following the story.
Flowers for Algernon – Daniel Keyes
With more than five million copies sold, Flowers for Algernon is the beloved classic story of a mentally disabled man whose experimental quest for intelligence mirrors that of Algernon, an extraordinary lab mouse. In poignant diary entries, Charlie tells how a brain operation increases his IQ and changes his life. As the experimental procedure takes effect, Charlie's intelligence expands until it surpasses that of the doctors who engineered his metamorphosis. The experiment seems to be a scientific breakthrough of paramount importance until Algernon begins his sudden, unexpected deterioration. Will the same happen to Charlie?
Finished Reading – 5 / 17 / 17
Rating – 5 Genius Rats out of 5!
Favorite Part – The story and characters were so genuine and heartbreaking.
Least Favorite Part – NOTHING 5/5 STARS
Night Film – Marisha Pessl
Everybody has a Cordova story. Cult horror director Stanislas Cordova hasn't been seen in public since 1977. To his fans he is an enigma. To journalist Scott McGrath he is the enemy. To Ashley he was a father.

On a damp October night the body of young, beautiful Ashley Cordova is found in an abandoned warehouse in lower Manhattan. Her suicide appears to be the latest tragedy to hit a severely cursed dynasty.

For McGrath, another death connected to the legendary director seems more than a coincidence. Driven by revenge, curiosity and a need for the truth, he finds himself pulled into a hypnotic, disorientating world, where almost everyone seems afraid.

The last time McGrath got close to exposing Cordova, he lost his marriage and his career. This time he could lose his grip on reality.

ONCE WE FACE OUR DEEPEST FEARS, WHAT LIES ON THE OTHER SIDE?
Finished  – 5 / 25 / 17
Rating  – 4.8 Cordova Films out of 5!
Favorite Part – How easily the real world intertwined with the fiction of this book.
Least Favorite Part – The tone was not as dark as I hoped.
We Came Back – Patrick Lacey // REVIEW
Growing up dead.

Melvin Brown sees things that aren't there. Monsters with tentacles and razor-sharp teeth. Ever the social outcast, he is bullied to the point of suicide. And his hatred of those who did him wrong does not die with him.

One decade after Melvin's death, something strange is happening to Lynnwood High School's smartest and most popular students. They begin to act out and spend time at the former high school, now abandoned and said to be haunted. And their numbers grow at an alarming rate.

Is this just a passing fad or are the rumors true? Does Lynnwood really have a teenage cult on their hands?
Finished  – 5 / 28 / 17
Rating  –  4.1 Cameras out of 5!
Favorite Part – The realistic characters and story line!
Least Favorite Part – The writing was very average.
IT – Stephen King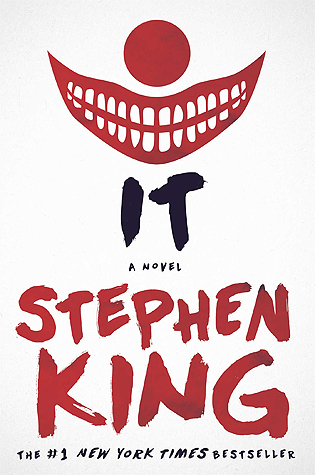 Welcome to Derry, Maine. It's a small city, a place as hauntingly familiar as your own hometown. Only in Derry the haunting is real.

They were seven teenagers when they first stumbled upon the horror. Now they are grown-up men and women who have gone out into the big world to gain success and happiness. But the promise they made twenty-eight years ago calls them reunite in the same place where, as teenagers, they battled an evil creature that preyed on the city's children. Now, children are being murdered again and their repressed memories of that terrifying summer return as they prepare to once again battle the monster lurking in Derry's sewers.
Finished  – 5 / 31 / 17
Rating – 5 Pennywise the Clowns out of 5!
Favorite Part  – EVERYTHING THIS IS MY FAVORITE BOOK EVER!
Least Favorite Part – NOTHING THIS IS MY FAVORITE BOOK EVER!
And that was it for the month of May! I think I did really well! What was your favorite book of the month? I'd love to know!
Thanks for reading!
SOCIAL MEDIA —
Check out my last post on my review of We Came Back – Patrick Lacey HERE!