BLOG UPDATE  – I added a new category to my rating system called "enjoyment". I feel like I have been trying so hard to rate critically, but I want to include if I liked it or not despite writing or story….so here we go!
I've been meaning to pick up Matson's work for years now and was finally in the mood for a cushy contemporary. Did I love it as much as I thought I would? Let's find out!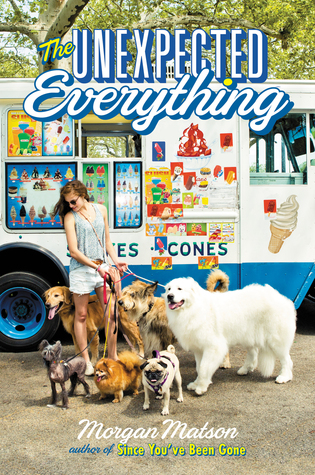 Andie had it all planned out. When you are a politician's daughter who's pretty much raised yourself, you learn everything can be planned or spun, or both. Especially your future. Important internship? Check. Amazing friends? Check. Guys? Check (as long as we're talking no more than three weeks).

But that was before the scandal. Before having to be in the same house with her dad. Before walking an insane number of dogs. That was before Clark and those few months that might change her whole life. Because here's the thing—if everything's planned out, you can never find the unexpected. And where's the fun in that? — Goodreads
Rating – PG13 ( Some sexual innuendos, some language, some teen partying)
Length – 519 pages
Publication date – 5 / 3 / 16
---
The Good :
The thing I liked most about this was the smallness of the story. Going in I thought it was going to be a cute romance on top of a mystery about who framed Andie's dad or something, but it wasn't. It was just about this ordinary girl's summer after her plans were changed. I love that.
Most of the characters were really likable and relatable. I was seriously Toby when I was in high school and felt for her the entire time. (Hopeless romantics for the win amiright?)
Clark! CLARK! ClArK! cLaRk! I seriously loved him. I think he's the first love interest I could actually see myself dating in real life! That's a big deal for me.
I loved the father/ daughter relationship, in this book. Some things actually really reminded me of my dad and I, so I guess it was appropriate for Father's Day.
At first the inclusion of emojis were kind of annoying to me, but as they became an essential part of the story, I found them fun.

MILD SPOILER!!!! –

I really enjoyed that not all the conflicts weren't wrapped up with a pretty bow. It made the story

 

seem all that more realistic, in the end.
The Meh :
The writing was honestly just so average. Like it was equivalent to watching an entertaining, but not at all impressive chick flick. I just  wanted to be challenged a little more, I guess.
I thought the excerpts of Clark's books were boring and honestly annoying. Like I just wanted to continue with the actual story not read from something that was barely relevant.
The Bad :
The liar revealed plot line made me want to rip my hair out! I hate that plot and I hate that when main characters  come across this dilemma they literally ruin EVERYTHING! Like just skip it please.
I didn't really like Andie's character and that's an issue when we literally follow her around the entire time.
There weren't enough dogs, ok? I saw like 10 dogs on the cover I thought there were going to be a million dogs, in the story.
---
STORY – 4/5 (I enjoyed that this story was small. No mystery or craziness just. I also loved the family dynamic and also the true friendship involved)
CHARACTERS – 4/5 (they felt really realistic. Like I WAS Toby in high school. Also Clark is my boyfriend and there is nothing you can do about it.)
WRITING – 3.5/5 (it wasn't bad but I wasn't impressed)
UNIQUENESS – 4/5 (the love interest being an author was interesting. Also I like the inclusion of emojis.)
ENJOYMENT – 4.5/5 (I seriously loved this but docked half a point because of the liar revealed plot line.)
ALL IN ALL I GIVE THIS 4 LONG OVERDUE SEQUELS OUT OF 5!
Have you read this book? What did you think of it? I'd love to know!
Thanks for reading!
SOCIAL MEDIA —
Check out my last post on my review of Dark Matter – Blake Crouch HERE!