Gore and More! Gore and More! This book club is my favorite time of the month and the books are always an experience, to say the least. Was this one good or bad? Let's find out!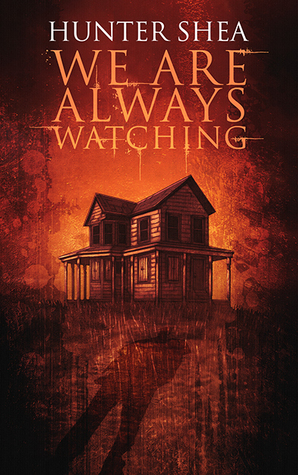 They've watched over the house for generations…

The move from New York to the decrepit Pennsylvania farmhouse is as bad as West Ridley thought it would be. His father's crippling vertigo only seems to get worse, and even with his mother working herself to the bone, they're out of money and options… – Goodreads
Rating – R (Language, violence, gore, some sexual scenes)
Publication Date – 3 / 1 / 17
Length – 252 (ebook) pages
---
The Good :
I really enjoyed the characters in this, especially West. He was not only a reader, but I horror lover (JUST LIKE ME!). I just really related to him.
I also liked the familial aspect to this book. Like they actually acted like a family instead of overly dysfunctional or idealized and perfect.
The father, in this book, has a serious case of vertigo and I've never read a book with that perspective before. It was just interesting.
The climax was CRAZY! Like, what? Not only was everyone's actions entertaining, but I did NOT know where it was going.
The Meh :
This was the definition of a slow burn horror. The climax was the only action in the entire book and that didn't happen until 75% of the way through the book. I enjoyed the build up, but there were times where I was just like SPEED UP ALREADY!
The Bad :
 I really didn't like the writing, in this book. It hit all my pet peeves and it was really distracting for me. If it hadn't been for the writing, I think this may have been one of my new favorite horrors, if it weren't for the writing.
---
STORY 4/5 (The perfect definition of a slow burn horror. The suspense was killing me the entire time and I was kept guessing until the very end.)
CHARACTERS 4/5 (I really enjoyed the family in this story. I felt like they really operated like a real dysfunctional family. I especially liked West but some of the other characters were a little lack luster.)
WRITING 3/5 (easily my least favorite part. It felt stilted and was honestly so distracting to me)
UNIQUENESS 4.5/5 (I have HONESTLY never read ANYTHING like this)
ENJOYMENT 3.75/5 (I didn't like the writing but the stories and characters saved it for me.)
ALL IN ALL I GIVE THIS 3.8 GUARDIANS OUT OF 5!
Thanks for reading!
SOCIAL MEDIA —
Check out my last post on my review of The Luckiest Girl Alive – Jessica Knoll HERE!