Stats –
In June, I read 7 books! Out of those books there were –
0 – ★
0 – ★ ★
5 – ★ ★ ★
1 – ★ ★ ★ ★
1 – ★ ★ ★ ★ ★
Monthly Avg. Rating – 3.42 stars
6 books I read in physical copies / 1 was an E-Book
2 physical books were library copies / 4 I owned
I read 0 books for review.
I read 1 book for the Gore and More book club.
Altogether I read 2,126 pages!
3 books were Horror Novels
1 book was a Thriller
1 book was a YA Contemporary Romance
1 book was a Cozy Mystery
---
Dark Matter – Blake Crouch // REVIEW
Are you happy with your life?"

Those are the last words Jason Dessen hears before the masked abductor knocks him unconscious.

Before he awakens to find himself strapped to a gurney, surrounded by strangers in hazmat suits.

Before a man Jason's never met smiles down at him and says, "Welcome back, my friend."

In this world he's woken up to, Jason's life is not the one he knows. His wife is not his wife. His son was never born. And Jason is not an ordinary college physics professor, but a celebrated genius who has achieved something remarkable. Something impossible….. – Goodreads
Finished Reading – 6 / 3 / 17
Rating – 3.25 Alternate Dimensions out of 5!
Favorite Part – The premise was cool.
Least Favorite Part – SO MANY PLOT HOLES!
Cat Got Your Diamonds – Julie Chase (No Review)
Grandeur and opulence are everything in the famed New Orleans Garden District where pets are family and no bling is too big. Opening Furry Godmother, pet boutique and organic treat bakery, is Lacy Marie Crocker's dream come true–until the glitter gun used to make her Shih Tzu tutus becomes a murder weapon. And Lacy becomes public enemy #1.

Now Detective Jack Oliver is hounding Lacy, and her Furry Godmother investor wants out before his name is tarnished by association. To make matters worse, a string of jewel heists with suspicious ties to the murder case has New Orleans residents on edge. To save her dream, Lacy must take a stand, put her keen eyes to work, and unravel what really happened at her shop that night. But can Lacy sniff out the killer cat burglar in time to get her tail-raising designs on the catwalk?… – Goodreads
Finished Reading – 6 / 12 / 17
Rating – 3.5 Designer Pet Clothes out of 5!
Favorite Part – I am a SUCKER for Cozy Mysteries and will follow the genre wherever it goes.
Least Favorite Part – The writing was pretty awkward.
The Unexpected Everything – Morgan Matson // REVIEW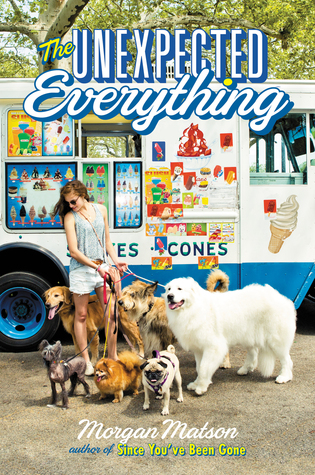 Andie had it all planned out. When you are a politician's daughter who's pretty much raised yourself, you learn everything can be planned or spun, or both. Especially your future. Important internship? Check. Amazing friends? Check. Guys? Check (as long as we're talking no more than three weeks).

But that was before the scandal. Before having to be in the same house with her dad. Before walking an insane number of dogs. That was before Clark and those few months that might change her whole life. Because here's the thing—if everything's planned out, you can never find the unexpected. And where's the fun in that? — Goodreads
Finished Reading – 6 / 17 / 17
Rating – 4 Long Overdue Sequels out of 5!
Favorite Part – The story was small and the characters were real.
Least Favorite Part – The liar revealed plot line.
Luckiest Girl Alive – Jessica Knoll // REVIEW
HER PERFECT LIFE IS A PERFECT LIE.

As a teenager at the prestigious Bradley School, Ani FaNelli endured a shocking, public humiliation that left her desperate to reinvent herself. Now, with a glamorous job, expensive wardrobe, and handsome blue blood fiancé, she's this close to living the perfect life she's worked so hard to achieve.

But Ani has a secret.

There's something else buried in her past that still haunts her, something private and painful that threatens to bubble to the surface and destroy everything…. — Goodreads
Finished Reading – 6 / 20 / 17
Rating – 3.5 Seashell Frames out of 5!
Favorite Part – I enjoyed the satire of the upperclass lifestyle.
Least Favorite Part – I thought it should not be marketed as a thriller, because it was never really "thrilling".
We Are Always Watching – Hunter Shea // REVIEW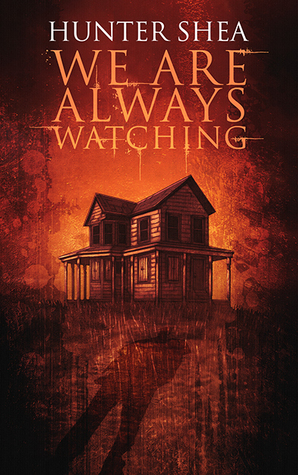 They've watched over the house for generations…

The move from New York to the decrepit Pennsylvania farmhouse is as bad as West Ridley thought it would be. His father's crippling vertigo only seems to get worse, and even with his mother working herself to the bone, they're out of money and options.

Grandpa Abraham is a drunk bastard and the living embodiment of the long neglected farmhouse. He claims the place is haunted. Ghosts roam the hall at night and their muffled cries fill the silence of warm, summer nights.

On the ceiling above West's bed are the words WE SEE YOU. In a house plagued by death and mysterious visitations, West realizes something beyond the fiction of his favorite horror books has to be faced.

Dark secrets are buried deep, and there are Guardians who want to keep it that way. No matter where they go or what they do, West and his family know one thing… they are always watching. — Goodreads
Finished Reading – 6 / 22 / 17
Rating – 3.8 Guardians out of 5!
Favorite Part – The homages to horror and the climax.
Least Favorite Part – It was SO SLOW! (Seriously nothing happened until 75% into the book).
Gwendy's Button Box – Stephen King & Richard Chizmar // REVIEW
The little town of Castle Rock, Maine has witnessed some strange events and unusual visitors over the years, but there is one story that has never been told… until now.

There are three ways up to Castle View from the town of Castle Rock: Route 117, Pleasant Road, and the Suicide Stairs. Every day in the summer of 1974 twelve-year-old Gwendy Peterson has taken the stairs, which are held by strong (if time-rusted) iron bolts and zig-zag up the cliffside.

At the top of the stairs, Gwendy catches her breath and listens to the shouts of the kids on the playground. From a bit farther away comes the chink of an aluminum bat hitting a baseball as the Senior League kids practice for the Labor Day charity game.

One day, a stranger calls to Gwendy: "Hey, girl. Come on over here for a bit. We ought to palaver, you and me."

On a bench in the shade sits a man in black jeans, a black coat like for a suit, and a white shirt unbuttoned at the top. On his head is a small neat black hat. The time will come when Gwendy has nightmares about that hat… — Goodreads
Finished Reading – 6 / 23 / 17
Rating – 5 Button Boxes out of 5!
Favorite Part – The story was just genius.
Least Favorite Part – None! 5 out of 5!
A House at the Bottom of a Lake – Josh Malerman // REVIEW
Both seventeen. Both afraid. But both saying yes.

It sounded like the perfect first date: canoeing across a chain of lakes, sandwiches and beer in the cooler. But teenagers Amelia and James discover something below the water's surface that changes their lives forever.

It's got two stories.

It's got a garden.

And the front door is open.

It's a house at the bottom of a lake.

For the teens, there is only one rule: no questions. And yet, how could a place so spectacular come with no price tag? While the duo plays house beneath the waves, one reality remains:

Just because a house is empty, doesn't mean nobody's home. — Goodreads
Finished Reading – 6 / 25 / 17
Rating – 3.2 Teenage Relationships out of 5!
Favorite Part – The idea was really good.
Least Favorite Part – The characters were awful and the ending made NO sense.
And that was it for the month of June! I think I did really well! What was your favorite book of the month? I'd love to know!
Thanks for reading!
SOCIAL MEDIA —
Check out my last post on my review on A House on the Bottom of a Lake – Josh Malerman HERE!