I've heard great things about Liane Moriarty's works. So, when I saw this book in my library, I picked it up immediately. So did I enjoy it? No.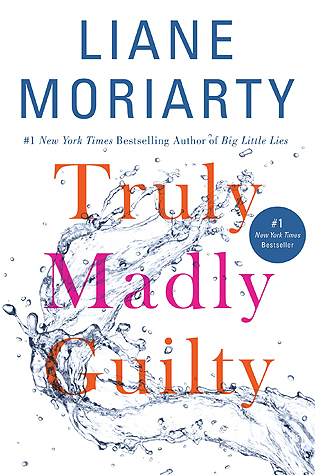 Six responsible adults. Three cute kids. One small dog. It's just a normal weekend. What could possibly go wrong?

Sam and Clementine have a wonderful, albeit, busy life: they have two little girls, Sam has just started a new dream job, and Clementine, a cellist, is busy preparing for the audition of a lifetime. If there's anything they can count on, it's each other.

Clementine and Erika are each other's oldest friends. A single look between them can convey an entire conversation. But theirs is a complicated relationship, so when Erika mentions a last minute invitation to a barbecue with her neighbors, Tiffany and Vid, Clementine and Sam don't hesitate. Having Tiffany and Vid's larger than life personalities there will be a welcome respite.

Two months later, it won't stop raining, and Clementine and Sam can't stop asking themselves the question: What if we hadn't gone?  — Goodreads
Genre – Domestic Thriller
Rating – PG13 (Some intense scenes, sexual situations, some language)
Length – 415 pages
Publication date – 7 / 26 / 16
---
The Good :
The writing was pretty good and really descriptive. Even if I didn't enjoy anything, I felt like I was there.
There were mental illnesses portrayed that I'd never read about before, especially hoarding.
The Meh :
Again with the writing, I felt like everything was written to trick me. Like I know that thrillers are supposed to keep you guessing, but this was ridiculous.
This book was SO SLOW! It took AT LEAST 75% (could even be closer to 80%) of the book to just find out what happened at a normal barbecue. It was honestly frustrating.
The Bad :
Oh my GOD I hated EVERY. SINGLE. ONE. of the characters. ALL OF THEM! I have never read a book where every one of the characters actually repulsed me. I just kept thinking something might make me like them more, but that something never came.
If this weren't a thriller, I would have definitely DNF'd. I thought, because it was a thriller,  it would have this crazy twist that would make everything worth it. Moriarty TRIED to pull this off, but that twist meant little to nothing to me.
Honestly I just hated reading this book. More than once I had to force myself to keep going. This book was just a complete waste of my time, and it's one of the only books I've read that I wish I could take back.
---
STORY – 2/5 (It was SO slow and the twists weren't even shocking the writing was just deceitful to make you think it was a good twist)
CHARACTERS – 2/5 (I seriously hated every single character in this entire book. EVERY ONE!)
WRITING – 2.5/5 (Like I said earlier the writing was just trying to trick you the entire time. There was no suspense or thrills. It was all very descriptive though.)
UNIQUENESS – 2.5/5 (Just like every other domestic thriller out there except for the fact that there were many mental illnesses portrayed that I haven't read much about before.)
ENJOYMENT – 1/5 (I seriously hated the act of reading this book. The only reason I continued reading was because I thought the ending might make up for everything else but I was wrong. this was a complete waste of my time.)
ALL IN ALL, I GIVE THIS 2 CELLIST OUT OF 5!
Have you read this? What did you think about it? I'd love to know! Should I read more Liane Moriarty? I can't decide.
Thanks for reading!
SOCIAL MEDIA —
Check out my last post on my Quarterly Wrap Up HERE!