This is going to be an unfortunately short wrap up, for you guys… I ONLY READ THREE BOOKS!!! Seriously, I'm so embarrassed.
In July I only read THREE books. Out of those, there were –
0 – ★
1 – ★★
0 – ★★★
1 – ★★★★
1 – ★★★★★
Monthly Avg. Rating – 3.7
2 books I read in physical form / 1 was an E-Book
Both physical books were library copies.
I read 0 books for review.
2 books I read were horror.
1 book was a domestic thriller.
---
Truly, Madly, Guilty – Liane Moriarty // REVIEW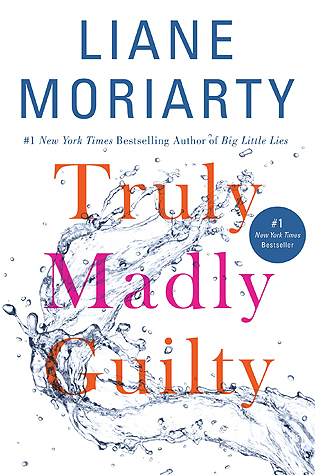 Six responsible adults. Three cute kids. One small dog. It's just a normal weekend. What could possibly go wrong?

Sam and Clementine have a wonderful, albeit, busy life: they have two little girls, Sam has just started a new dream job, and Clementine, a cellist, is busy preparing for the audition of a lifetime. If there's anything they can count on, it's each other.

Clementine and Erika are each other's oldest friends. A single look between them can convey an entire conversation. But theirs is a complicated relationship, so when Erika mentions a last minute invitation to a barbecue with her neighbors, Tiffany and Vid, Clementine and Sam don't hesitate. Having Tiffany and Vid's larger than life personalities there will be a welcome respite.

Two months later, it won't stop raining, and Clementine and Sam can't stop asking themselves the question: What if we hadn't gone? — Goodreads
Finished reading – 7 / 5 / 17
Rating – 2 CELLIST OUT OF 5
Favorite Part – There were some characters who had mental illnesses I hadn't ever read about before (ex. Kleptomania and Hoarding)
Least Favorite Part – Literally everything else. Don't bother with the book.
And The Trees Crept In – Dawn Kurtagich // REVIEW
Stay away from the woods…

When Silla and Nori arrive at their aunt's home, it's immediately clear that the manor is cursed. The endless creaking of the house at night and the eerie stillness of the woods surrounding them would be enough of a sign, but there are secrets too—questions that Silla can't ignore: Why does it seem that, ever since they arrived, the trees have been creeping closer? Who is the beautiful boy who's appeared from the woods? And who is the tall man with no eyes who Nori plays with in the basement at night… a man no one else can see? — Goodreads
Finished Reading – 7 / 10 / 17
Rating – 4.9 CREEPER MEN OUT OF 5 (DISCLAIMER — I wanted to give this 5 stars but since I had one big issue with the, I couldn't do that. So it's as close a possible.)
Favorite Part – The author knew how to unsettle you. The addition of different fonts really made you feel like you were going insane.
Least Favorite Part – One character seemed useless and I honestly wanted them to diagnose her mental illnesses instead of just calling her "crazy".
Rosemary's Baby – Ira Levin // REVIEW
Rosemary Woodhouse and her struggling actor husband Guy move into the Bramford, an old New York City apartment building with an ominous reputation and mostly elderly residents… – Goodreads
Finished Reading – 7 / 18 / 17
Rating – 5 TANNIS ROOTS OUT OF 5
Favorite Part – This book was SO suspenseful. Everything felt real and terrifying. Also, I had seen the movie before, and I think that  it made it even more suspenseful for me.
Least Favorite Part – This is just a nitpick but I wish that the villains had explained how they carried out their sinister acts.
---
This, unfortunately, is the end of my reading month. Luckily, 2/3 of the books I read were excellent, but I wish I had read more books.
What was your favorite book of the month? I'd love to know!
Thanks for reading!
SOCIAL MEDIA —
Check out my last post on my review on Rosemary's Baby – Ira Levin HERE!